La Palma Airport Parking
Unbeatable Value Airport Parking
Compare Parking Prices at La Palma Airport
checkBest price guarantee
checkCompare all parking operators
checkOver 4 million happy customers
checkOptions for all budgets
checkFree no-hassle cancellations


Useful information about airport parking at La Palma Airport
As passengers pass the terminal at La Palma Airport, they have various options for leisure and business travel amenities while waiting at the terminal.
It has the appropriate parking lot if you need to park at the airport. Choose from inexpensive parking lots with transportation to the airport, valet parking with terminal pickup, or a space in the official airport parking lot. Select the parking spot that fits you the best, make your reservation in just two clicks, and save time and money on your journey.
Parking garage under the basement of the terminal of the airport of La Palma. Doing this will take you less than a minute to walk from your car to the La Palma Airport's arrivals and departures building. It takes mobile payments and includes spaces modified for those with limited mobility.
A walkway connects the airport terminal's basement to the arrivals and departure sections, and it takes 3 to 4 minutes to get there.
The ideal place to park at the La Palma Airport if you need to fetch or drop a loved one off for a flight is at the AENA Aeropuerto de La Palma - General car park. You can use the amenities provided by the AENA General car park at the La Palma Airport to park quickly, catch your flight, and get the most out of your trip.
Because this La Palma Airport official parking lot has ongoing camera surveillance, you don't need to worry about anything. You have the maximum flexibility while parking your automobile because it is open twenty-four hours a day, every day of the year.
Up to 10% of the booking cost can be saved by scheduling the parking time in advance.
Note: All parking rates quoted below are subject to change without notice.
La Palma Airport Parking
Address: Cam. la Bajita, s/n, 38739 Villa de Mazo, Santa Cruz de Tenerife, Spain
Phone: +34 913 21 10 00
Disabled Parking at La Palma Airport
The La Palma Airport provides specific services, such as reserved parking and parking assistance, for passengers with disabilities or limited mobility.
The underground facility has 23 seats designated for drivers with disabilities.
People with impaired mobility can use the parking lots for free by providing their disability-proof medical to the airport employees, identification, and a ticket that verifies their handicap.
For additional accessibility needs and help with hassle-free travel via Palma Airport, it is advisable to contact your airline.
Short-Term Parking at La Palma Airport
You can leave your vehicle in the short-term lot at La Palma Airport's underground parking garage.
Because parking at the airport must be scheduled, the places are first come, first served. Suppose you only require parking for a few hours and are close to the terminal so you can immediately convey your passengers. In that case, a short-term parking place is handy.
The airport offers quick, simple access to the terminal and short-stay possibilities for tourists and guests. They are conveniently located close to the airport.
Long-Term Parking at La Palma Airport
Suppose you must leave your car there for a few days or longer. In that case, they also have long-term parking available in the terminal's basement.
By renting long-term parking at the airport of La Palma, you can take the best possible care of your vehicles. When you return from a trip or vacation knowing that your cars will be in good shape when you get home, you'll be a satisfied customer.
For lengthy journeys, the La Palma Airport is an excellent choice. It provides enormous savings for individuals who book online.
Everything goes smoothly, and you get what you paid for. Parking is advantageous, as many tourists are aware.
Parking Rates at La Palma Airport
Guests and passengers can choose from a range of pricing, from exceedingly inexpensive to moderately pricey, when seeking a great parking space in the terminal. Parking prices vary depending on where you park and how long you stay.
Parking at the La Palma Airport should be planned for and calculated. The following is a list of the short-term and long-term parking fees at the terminal's underground parking garage:
Short-term parking
| | |
| --- | --- |
| TIME | RATE |
| 1 day (with AENA's Club Cliente membership) | € 7.50 |
| 1 day (with reservation) | € 8 |
| 1 day (without reservation) | € 10.50 |
Long-term parking
This is how you get a ticket and pay for it at La Palma Airport Parking services:
It is highly disseminated that reservations are not required to enter the parking lot. You can enter the parking lot typically and pay for your stay when you leave.
You can get direct discounts for your stay if you make a reservation in advance and through an online reservation.
Suppose you are a member of the Aena Customer Club. You can pay for parking using the Aena App and save going to the cashier before departing. Besides this, you can also pay through card or cash at the designated cashier counter of the parking area.
The "Car park booking and payment" part of the Aena App is where payments are made.
You can see the relevant invoice for your completed reservations on the bookings page.
Parking Tips at La Palma Airport
When you get to the parking lot, wait in front of the entry gate to enter; the license plate reader will automatically register your car and issue a ticket. This ticket has your reservation details and has already been paid for.
Validate your entrance ticket by going to the control desk (or ATM). You only have to pay the difference in price for the parking space if you stay longer than the time allotted in your reservation. Then, move your car toward the exit, and use this ticket to unlock the barrier.
A specific space is not guaranteed when you make an advance reservation. Any available space in the parking garage you chose during booking is where you can park.
The parking lot has a general civil liability insurance policy with an insurance provider covering liability for damage, theft, or destruction of motor vehicles while they r custody.
Before leaving the parking lot, it is advised that claims for damages be filed there.
Don't hesitate to contact La Palma for any needed details and information you may want to ask about the terminal parking services.
Parking Operators at La Palma Airport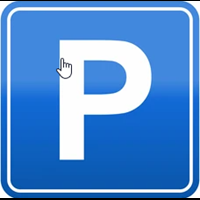 Car Parks at La Palma Airport
| Name | Address | Opening Hours | On Airport Grounds | |
| --- | --- | --- | --- | --- |
| Parking | 38738 Villa de Mazo (Santa Cruz de Tenerife), Spain | - | done | |
| La Palma-Aparcamiento | 38738 Villa de Mazo (Santa Cruz de Tenerife), Spain | - | close | |
| Parking | 38738 Villa de Mazo (Santa Cruz de Tenerife), Spain | - | done | |
| La Palma-Aparcamiento | Calle Monte Breña, 38738 Villa de Mazo (Santa Cruz de Tenerife), Spain | Mon-Sun: 00:00 - 24:00 | done | |
| La Palma-Aparcamiento P1 | 38738 Villa de Mazo (Santa Cruz de Tenerife), Spain | - | close | |
| Aena Aeropuerto de Reus | LP-208, 38730 Villa de Mazo (Santa Cruz de Tenerife), Spain | - | close | |
Map of Car Parks at La Palma Airport Frequently Asked Questions - La Palma Airport Parking
question_answer Which parking facilities are open 24 hours at La Palma Airport?

The following car parks are open 24 hours at La Palma Airport:

question_answer Which car parks at La Palma Airport allow me to keep my keys?

The following car parks at La Palma Airport permit owners retaining their keys:

question_answer Are there secure car parks at La Palma Airport?

The following car parks at La Palma Airport are deemed secure:

question_answer What covered parking is available at La Palma Airport?

What covered parking is available at La Palma Airport?

question_answer Which are the best rated car parks at La Palma Airport?

The best rated car parks at La Palma Airport are:

question_answer Which car parks at La Palma Airport can be found on the Airport grounds?

The following car parks can be found on the Airport grounds at La Palma Airport:

{"@context":"https://schema.org","@type":"ParkingFacility","name":"Parking General P1 AENA Aeropuerto La Palma","address":"LP-5 Villa de Mazo Santa Cruz de Tenerife 38711","geo":{"@type":"GeoCoordinates","latitude":28.621676,"longitude":-17.752278},"openingHours":"Mo-Su"}