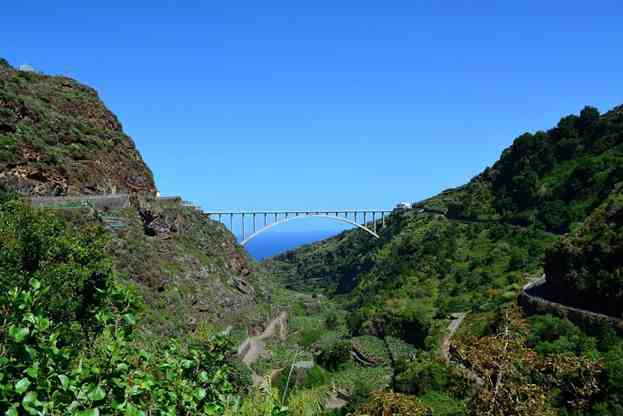 La Palma Tourist Attractions
La Palma is the Canaries fifth largest island. It offers a multitude of things to do and see. The island is also widely regarded as one of the world's most beautiful holiday destinations. Climb down into a caldera, a steaming kettle of pine forests and waterfalls, or enjoy a visit to the island's observatory. Go to the beach to sunbathe or into the mountains for an exciting mountain bike ride, watch dolphins or learn how to dive or travel right into sea caves with a glass-bottomed boat. La Palma has it all and more. Here is just a small selection of what you can enjoy:
1. Start from Tazacorte: Catamaran Cruise of La Palma
This 3-hour catamaran cruise takes you to the north of the island from Tazarcorte to places like Puntagorda, Tijarfe, Cueva Bonita and Playa de la Veta. Along the way you may catch a glimpse of dolphins who love accompanying the boats. Beautiful rock formations like the Poris de Candelaria ones along the northern coastline of La Palma as well as highlights like the Cueva Bonita cave will take your breath away. Guests get the chance to swim in crystal clear waters or have fun with a banana boat and pedalling. Meeting point is the port of Tazacorte. Life jackets for adults and children are included.
2. La Palma: PADI DSD Diving Experience
The marine life of La Palma is plentiful and full of colour. With all the necessary diving gear supplied, the 4-hour tour takes off from the La Palma Diving Center, Centro Comercial Los Cancajos. Suitable from age 10 upwards, the tour doesn't require prior diving experience or knowledge, but a good fitness level. It's a real adventure for the whole family, taking you under water, teaching you breathing techniques, while allowing you to see the wonderful underwater world of the Canaries. You learn how diving equipment works, how to swim and glide under water. At the end you'll get the first component of the PADI Open Water Divers certification, which is globally recognised. La Palma's seashores are home to parrot fish, scorpion fish, trumpet fish and octopi, as well as other marine life. Tour includes all diving equipment.
A 3-hour sailing tour with an experienced crew that takes you along the lovely coast of La Palma, while you're having drinks, listen to music and nibble tapas. You get to hop off and go for a swim, when you want and can snorkel in the clear waters too. Modern and luxurious, the yachts leave from Puerto Deportivo de Tazacorte for an adventure that is manageable even for younger seafarers. Along the way you may spot local wildlife like dolphins and seabirds, and with snorkelling equipment provided you can discover marine life too.
4. La Palma Sea Caves Yacht Tour
This 2-hour tour takes you to the sea caves off the coast of La Palma in a lovely yacht, where you can sunbathe until you get to the highlight of the trip. Enjoy panoramic views of the marine world with a submarine-style window let into the bottom of the boat, when it goes into some of the sea caves. Drinks and tapas are served on board, while your captain sails you to Smuggler's Bay or to some of the best spots for swimming and snorkelling. Meet at the Port of Tazacorte. The yacht takes a northwesterly course towards Poris de Puntagorda. The boat also stops off at the stunning Cueva Bonita cave, one of the many memorable points of this trip.
5. Full Day Tour to Garafia Roque
Transport and guide are included in this full day tour, which explores the natural wonders of the Roque de los Muchachos crater, one of the largest in the world. Look forward to the primeval world of the Caldera de Taburiente, which is filled with waterfalls and magical pine forests that will remind you of Jurassic Park. The tour also includes Garafia Santo Domingo and El Time, two places affording the best views over the Angustias Gorge. From Los Llanos de Aridane you'll head to La Cumbrecita and the Conception lookout, a natural volcanic ledge with stunning views of Santa Cruz, the island's capital. The tour can pick up from different hotels, but there are also three general meeting points: the bus stop at Sol La Palma on the main road, at the H10 Taburiente Playa hotel reception and at the reception of the La Palma Princess Hotel.
Or you could go to the southernmost part of the island to visit the salt pans at Fuencaliente or the steep cliffs at Puntagorda on your own – some taxi companies offer guided tours too and there are several car hire companies at La Palma Airport.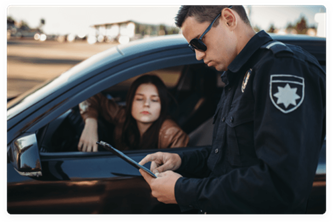 Get Your International Driver's Permit in 2 hours
An IDP is a requirement to drive or rent a car in many foreign countries. It is also a United Nations regulated travel document for your safety and ease of travel. Avoid additional stress whilst on your travels...
ORDER NOW
UNBEATABLE VALUE CAR RENTAL

FREE
Amendments,
FREE
Cancellations,
NO
card fees!
airport_shuttle Need Airport Transfers?
Useful Information about La Palma Airport